It is human nature to get bored of the same things. That can also be applied to CSGO skins; we have all been bored with our skins at one point! If you got bored of yours, this is the right place for you! In this article, we will help you decide which website will suit all of your needs when trading your old, boring skins for brand-new ones!
The Most Trusted & Beneficial CSGO Trading Sites in 2023
Here are our picks for the best CSGO trading sites! This list consists of old and new faces in the CSGO skin trading scene.
CSGORoll – One of the oldest standing sites
CSGOEmpire – The first zero-fee skin site
CSGO500 – One of the oldest CSGO & Crypto Casinos
Tradeit.gg – A fully automated trade bot
CS.Trade – Instant trading tool to exchange items for keys, skins, and knives
Swap.gg – Secure and easy site that can be used to sell/trade items
BitSkins – Secure site that has been on the scene since 2015
DMarket – Cheap skins, low fees & secure service
CS.Money – The most famous CSGO trading site
Now, after we have announced our competitors for the best skin trading service, we will move on to the in-depth reviews of each one!
1. CSGORoll
CSGORoll is one of the oldest standing websites that involves gambling and CSGO skin trading. They have reasonable fees, a big player base, multiple methods of deposit, and a lot of opportunities to change your boring skins into the ones you dream of. Although, we have to mention the current controversies surrounding this website.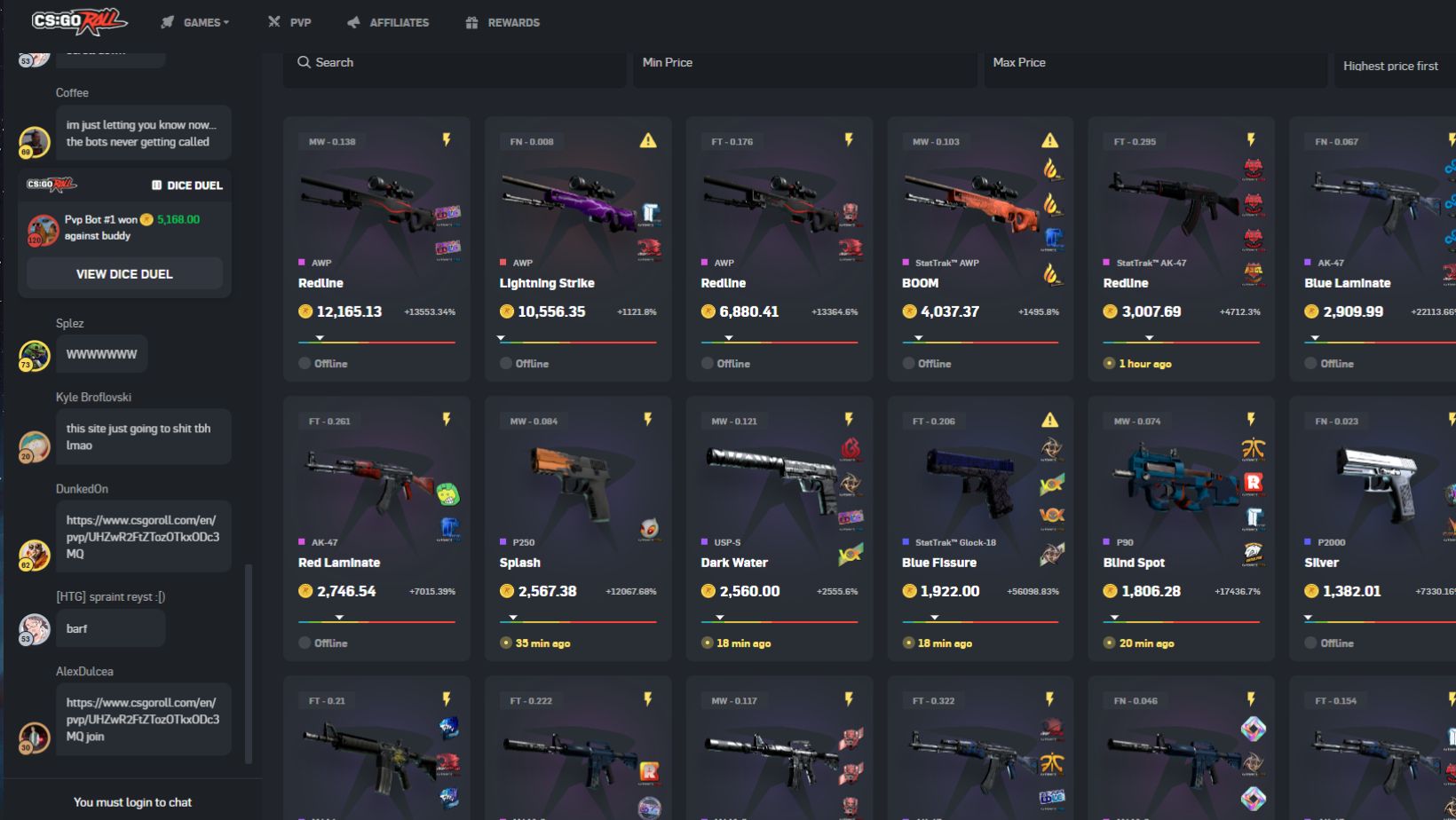 Most of their skin suppliers were sanctioned by Steam. Currently, their withdrawal section is almost empty, which is something that the whole community hopes will get fixed soon.
This website uses the P2P (peer-to-peer) method for all of its users.
2. CSGOEmpire
CSGOEmpire, in the past few weeks, has established itself as the best option for potential skin traders! They offer a fully working Peer-to-Peer method of trading, which includes zero fees for its users.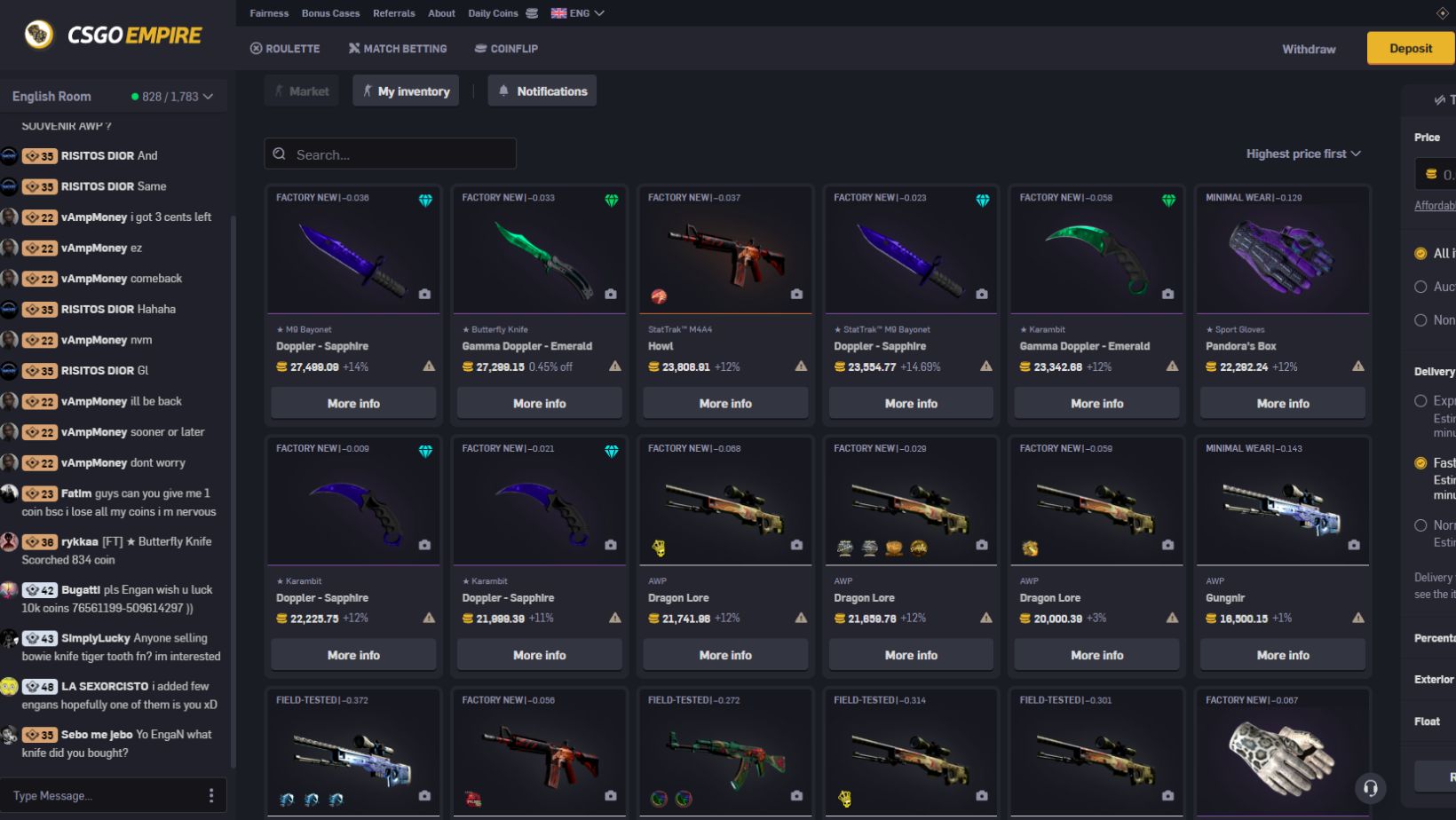 When a certain user deposits their skin, and another user withdraws it, they have a fully automatic system that registers when the skin has been successfully transferred to the new owner. After that happens, the user who deposited is credited with site currency (coins), which he can use to withdraw other skins.
3. CSGO500
CSGO500 is one of the best and longest-standing CSGO trading sites and Crypto casinos. This page is mostly associated with gambling but can also be used as a trading website, following the Peer-to-Peer method.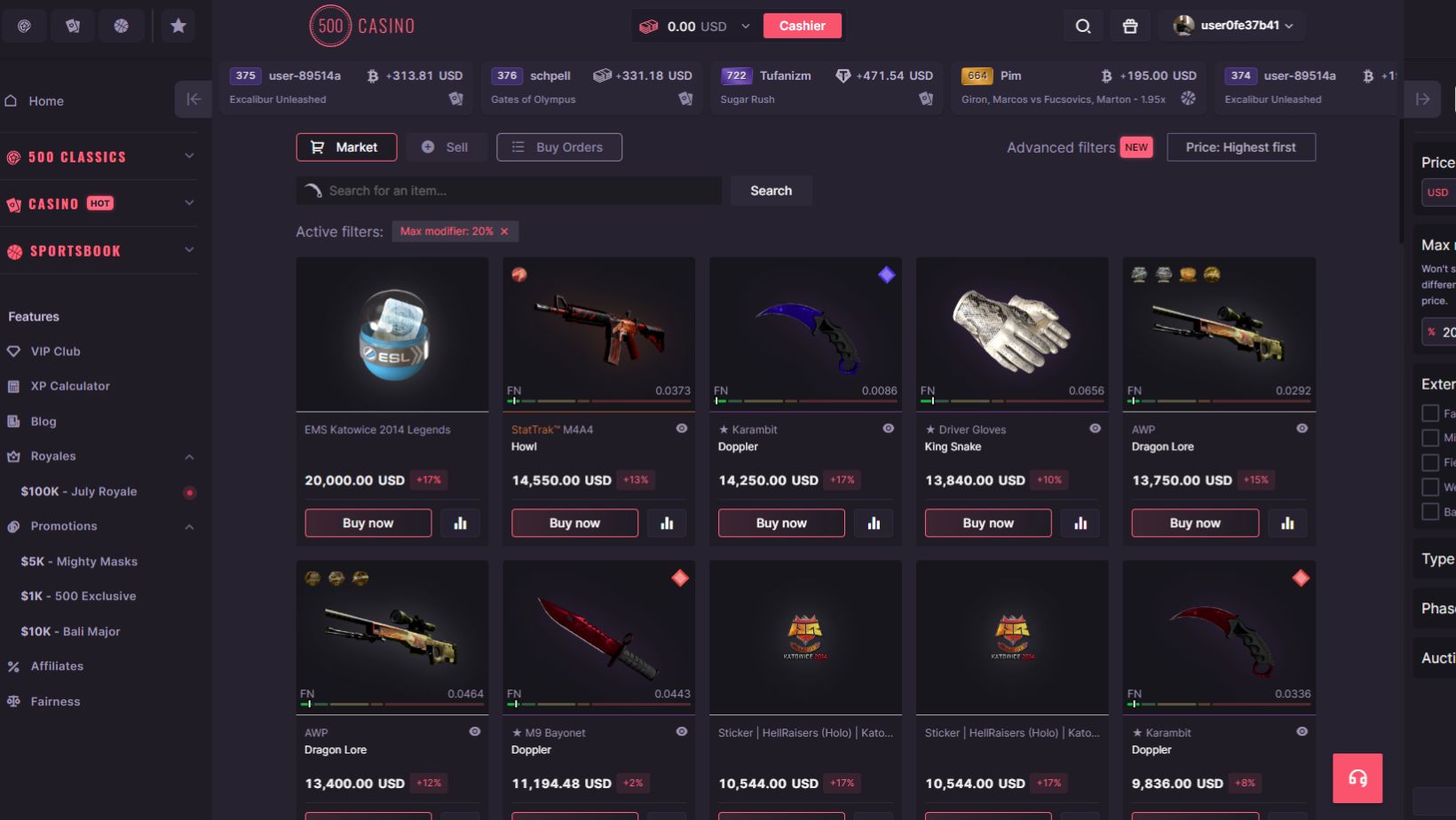 This site also allows its users to exchange real-life currency, such as crypto, for their skins. The buying/selling of skins is based on a market-type style in which players can add a certain percentage to the suggested price offered by the site, therefore being in control of any transaction you are making.
4. Tradeit.gg
Tradeit.gg follows a new concept to the skin trading community. The site uses a fully automated bot that you can trade with. You select the items that you want to trade and then select items of the same price value to get from the trading bot!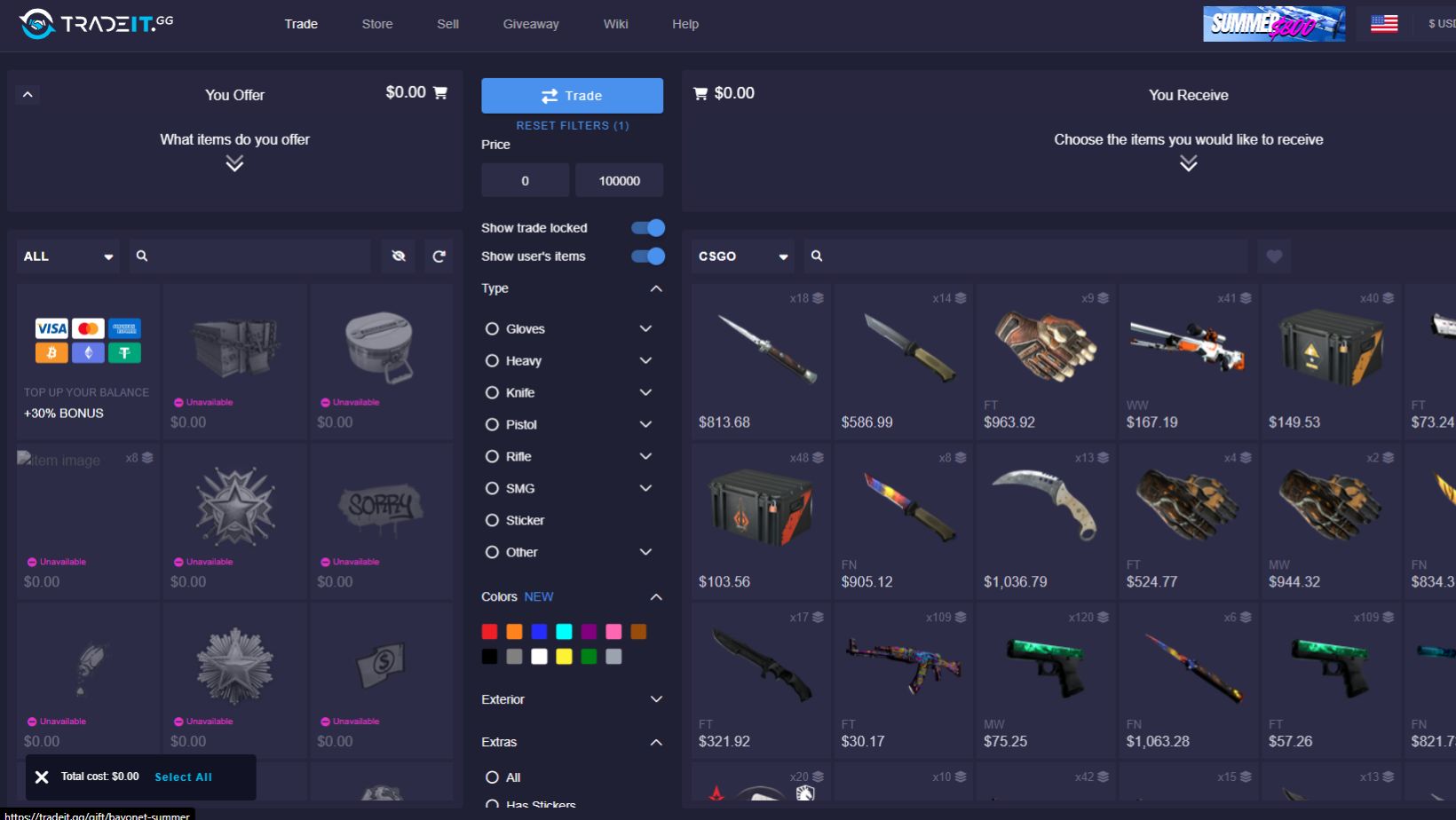 All transactions go through Steam. Tradeit.gg has a transaction fee of 2% plus $0.05 per trade, with an additional 0-13% fee depending on the item and its trade hold.
5. CS.Trade
This trading site is relatively new; it offers a variety of services, such as an Investing tool, a screenshot tool, and a Float Checker. Their trading method is based on the player-to-bot concept.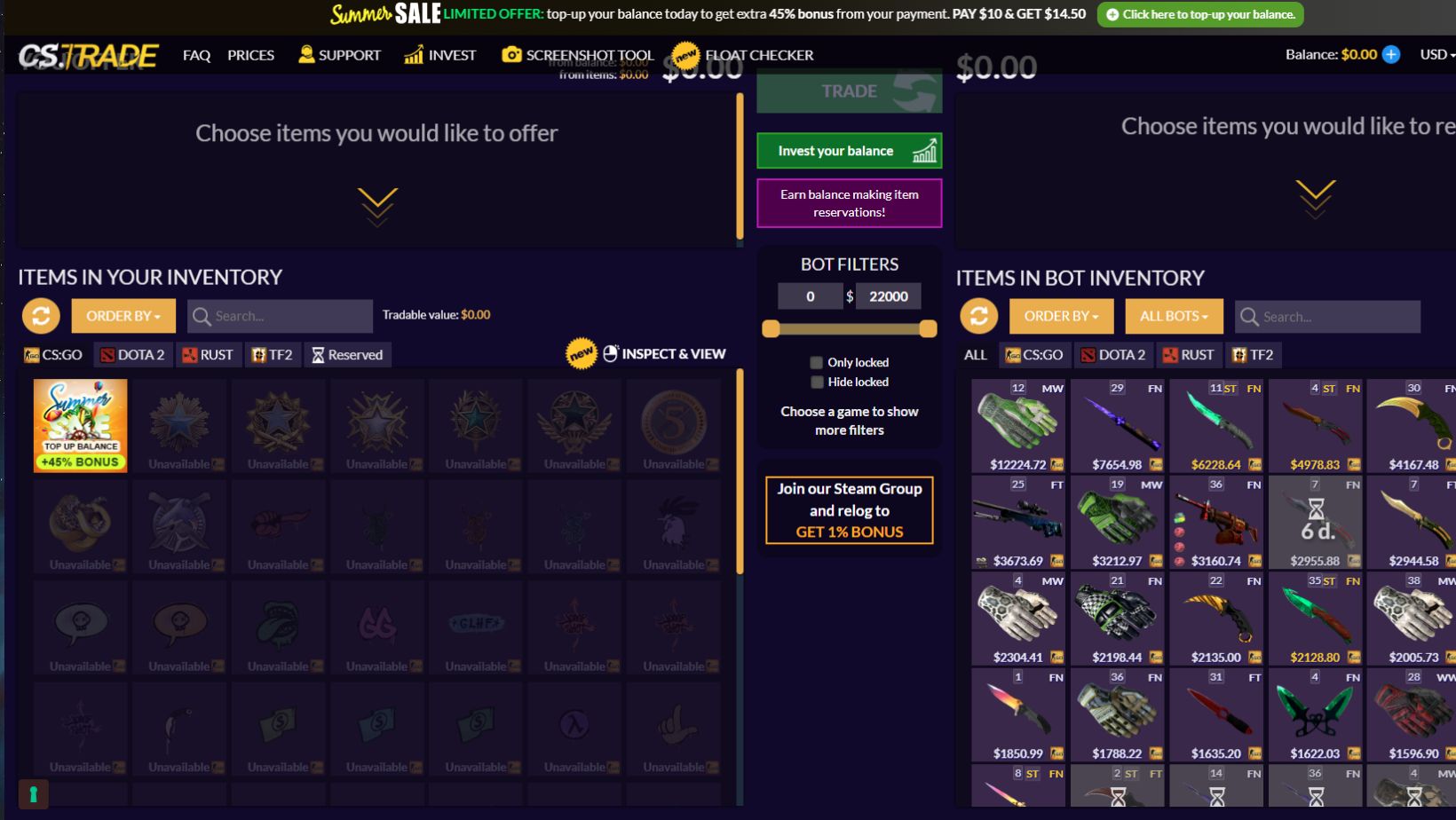 When a player selects the items they want to trade up to a certain price point, they can get back items in the same price range.
6. Swap.gg
Swap.gg is one of the fastest-growing trading websites in the CSGO community. They have completed nearly ten million trades and host about 1.3 million users.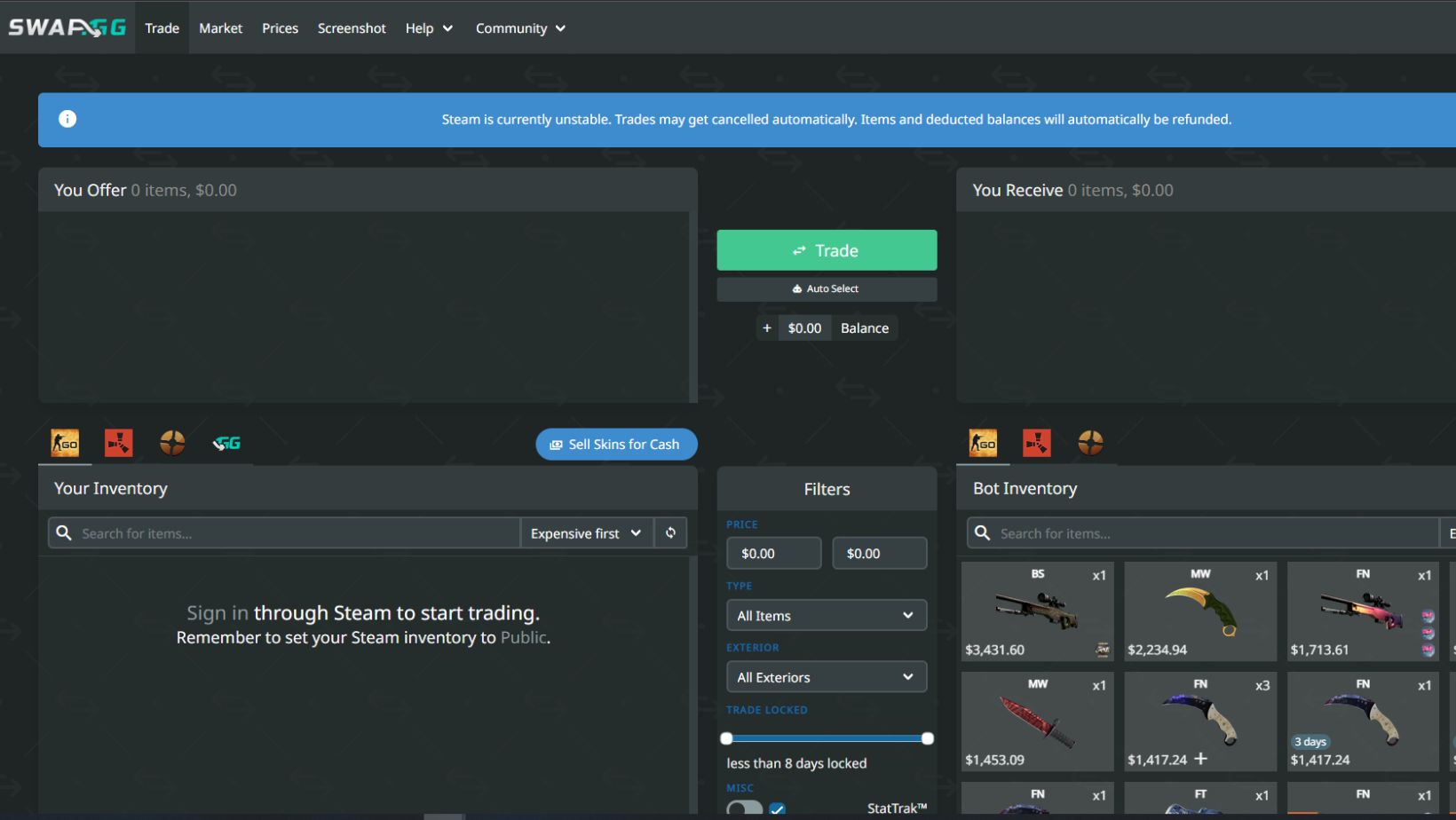 They were founded in 2017 and have adopted the Peer-to-Bot trading method, where you straight up trade your skins that have a certain price for the bot's skins that have the same value. Swap.gg charges a fixed 5% fee.
7. Bitskins
Bitskins has made its name as one of the pioneers in the CSGO skin scene; they were one of the first stable skin marketplaces.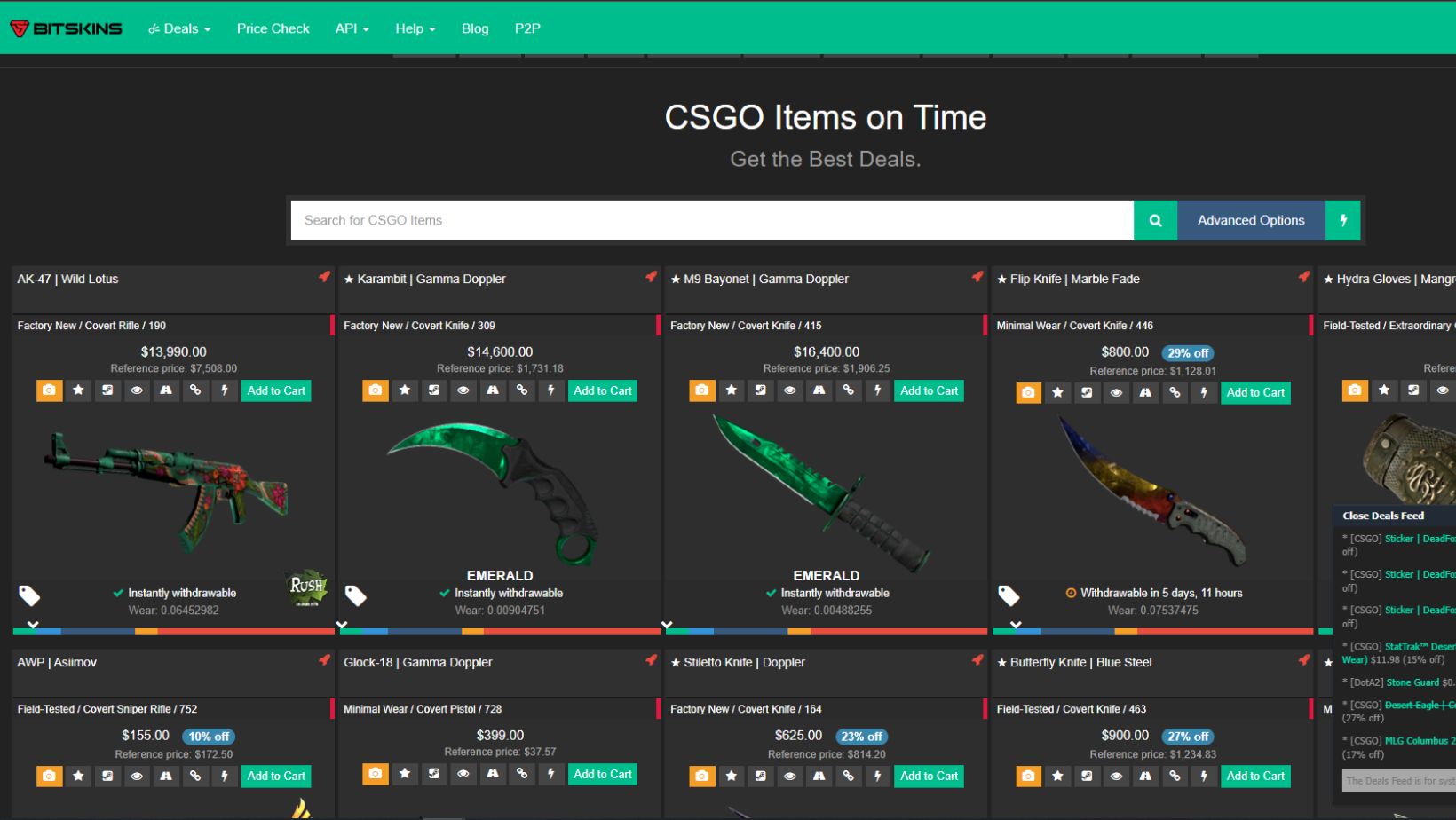 The site offers transactions in three games – CSGO, DotA 2, and TF2. The website is based on a currency-to-skin concept, which allows you to buy skins for a certain price, which will be traded to you afterward from the seller using the P2P method. The site has a fixed 10% fee on each sold item.
8. DMarket
DMarket is one of the leading competitors in the skin trading scene; they offer by far the most options for their customers. You can sell and buy skins using real-life currencies in their Market section. Moving on from there, we have the F2F Market (Face-to-Face), which allows players to transfer items directly between Steam accounts without the need to withdraw their items to DMarket.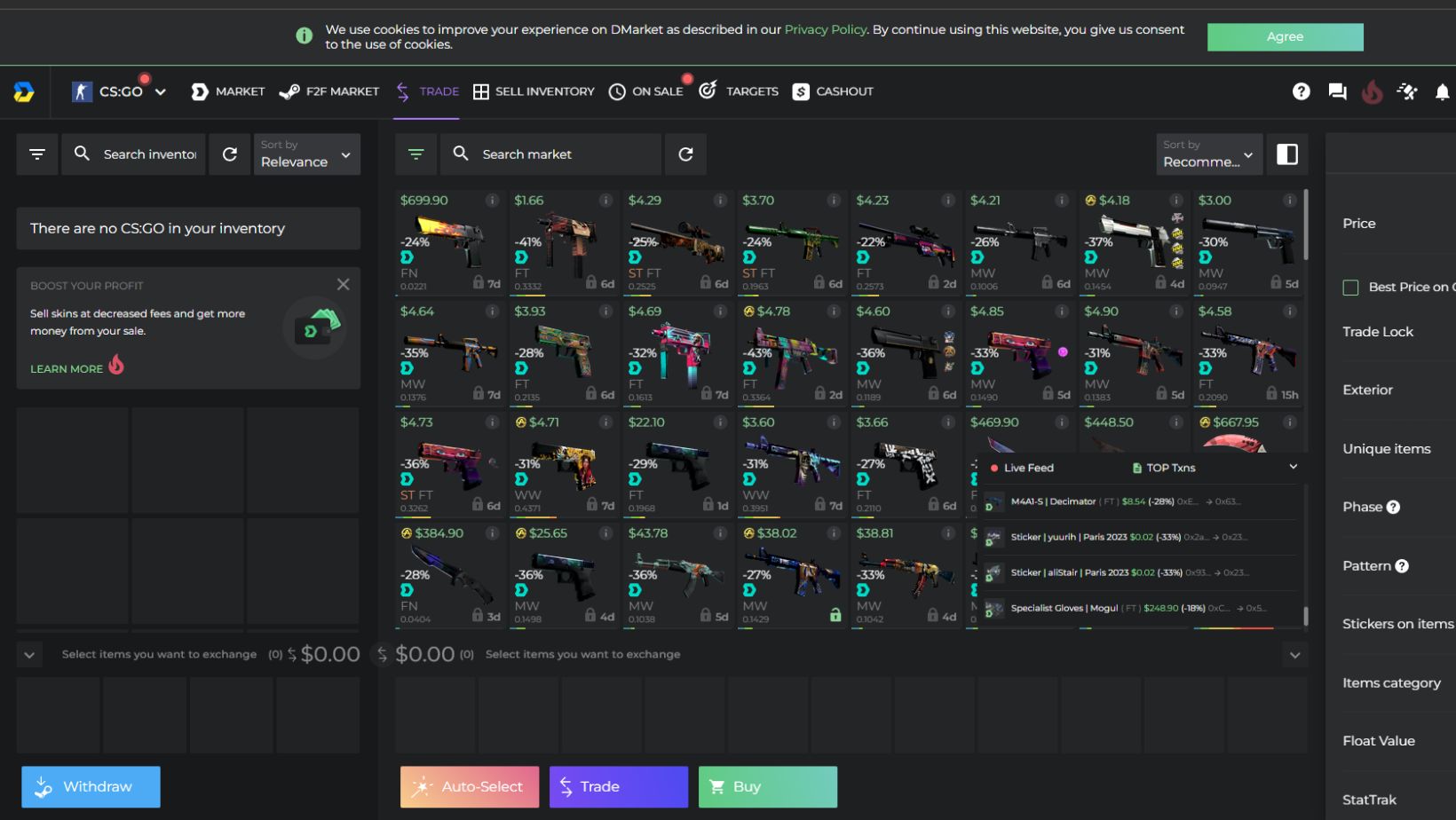 The other options they offer are – a Peer-to-bot method, an auction section, and lastly, a Cash-out option, which offers players an alternative to skin withdrawals. Their fees are flexible and variable, ranging from 1% to 7%.
9. CS.Money
CS.Money is probably the name that you are most familiar with, out of all of the ones listed in this article, that can be defined as a true "trade" only website. Recently, they have added an auction option, a selling section, and a withdrawal option that allows users to get something else besides skins.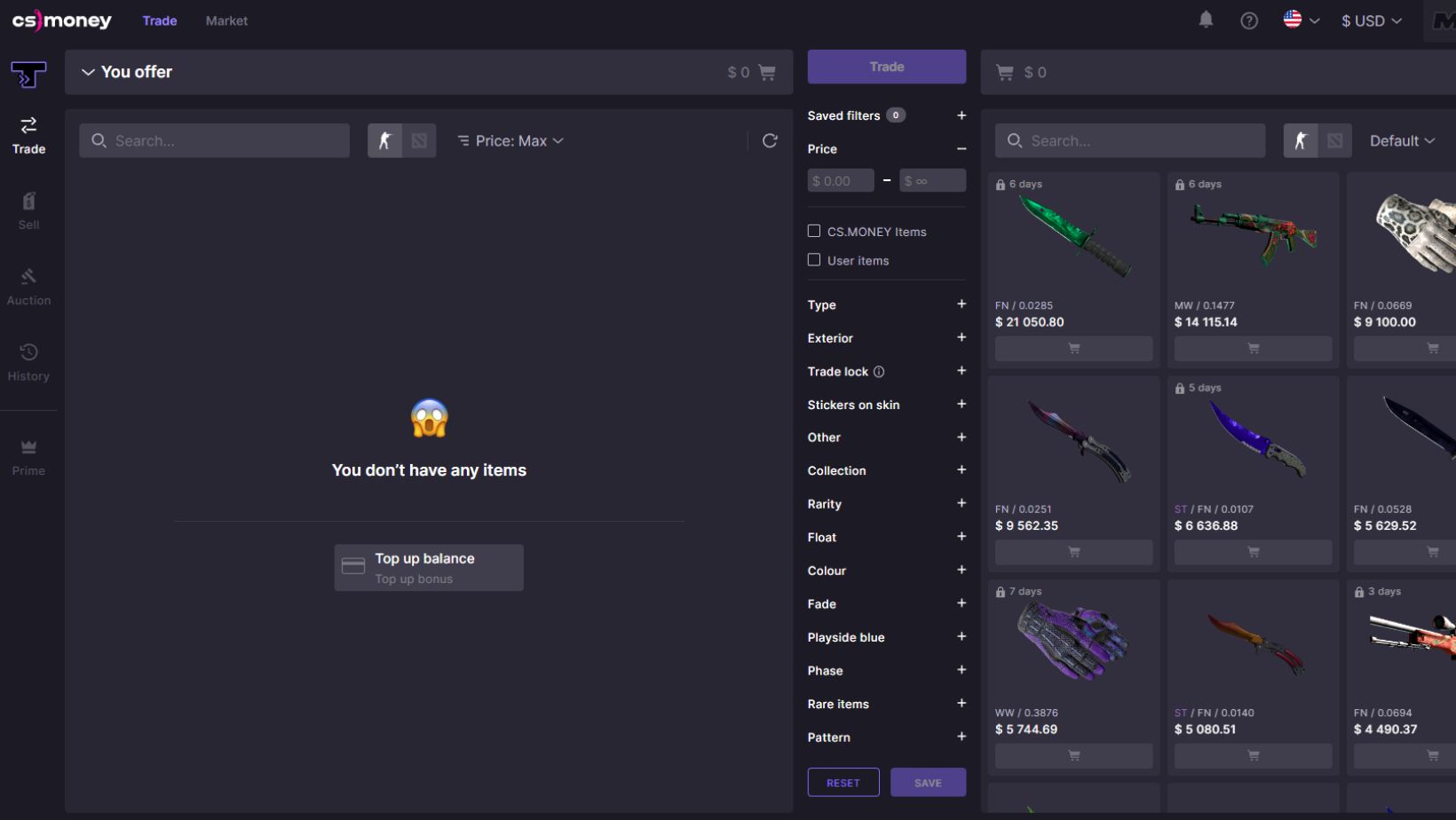 They first invented the Player-to-Bot trading method, which has taken over the trading community in the past few years. They are very reliable and trusted, you can never go wrong by trading with them. They also offer great Live Support and a Mobile App that you can use to trade. CS.Money charges a 5% commission on skins that are valued at less than 1000$ and a 3% fee on items that are over 1000$.
How to Choose the Perfect Site to Trade CSGO Skins?
When choosing the perfect CSGO trading sites, every user should have their own preferences. Some people want lower fees, some people want more options when trading, a freshly stocked market, etc. We recommend going through the article, reading about each website, and making your pick from there. Our primary goal was to make this question much easier for you!
Conclusion
Skin trading is an essential part of the CSGO scene. It is one of the best available tools for any player, allowing them to keep their inventory fresh without any additional reinvestment into the game. They can work with what they already have and make the most out of it!